Dermal Fillers
Fillers are the latest advance in facial cosmetics. When combined with Botox, you can perform a Liquid Face Lift where the face is lifted by adding these Injectables instead of removing tissue surgically.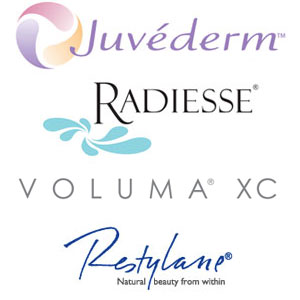 As your face ages, it loses volume leading to a hollowing or gaunt appearance. Also over time, gravity pulls on your face causing it to sag. Injectables – Botox along with the dermal fillers Restylane, Juvederm, and Voluma – can be used together to reverse these signs of aging without the need for surgery.
The Liquid Face Lift

How does this work?
Botox weakens the muscles that cause facial wrinkles and drooping. Dermal fillers –Restylane, Juvederm, and Voluma – add volume to a sagging face giving it a lift. When used together, you will look like yourself but 10 years younger.
Will you get the "Beverly Hills" frozen or freakish look?
No!!! The secret to quality aesthetics is achieving a natural, youthful appearance by not over treating. Our goal is not to eliminate every line and fold on your face (even a 5 year old child has some wrinkles and folds). We strive to turn back the clock 10 years or more so your friends are left wondering why you look so rested and refreshed.
What is a typical treatment?
Upper Face (Eye Area)
Botox works best in the upper face – frown lines, forehead wrinkles, and crow's feet. Sometimes thinner fillers (Restylane and Juvederm) can be used along with Botox for forehead lines and tear trough deformities/dark circles under the eyes. Botox can also be used to lift a droopy brow and create a more feminine brow shape.
Mid Face (Cheek Area)
Thicker fillers (Voluma and Radiesse) work very well to create high cheek bones and beautiful apple cheeks. By adding volume to the cheeks thick fillers also lift the mid face making the nasolabial folds around the mouth less prominent so direct injection into these folds is often unnecessary.
Lower Face (Mouth Area)
Thick fillers are also used to treat nasolabial folds and marionette lines along the mouth. Thinner fillers are used to define the lip line and plump up the body of the lip.
How does this compare to a surgical face lift?
Pluses
The Liquid Face Lift creates a more natural appearance (no "wind swept look"). It is safer, less costly, and minimally invasive compared to a surgical face lift.
Minuses
Botox requires retreatments every 3 to 6 months and fillers every 12 to 24 months. The surgical face lift can last many years.
For more information, pricing, or to schedule an appointment, please call 781-383-2555 (Cohasset) and 508-747-3338 (Plymouth) or send an email to info@streckereye.com